Want to trap tons of mosquitoes? Click here to jump directly to some mosquito traps that actually work!
I'm sure you remember when this 2 liter pop bottle mosquito trap went viral on every channel of the internet. Finally, a solution to those pesky little vampires that we all deal with every summer!
According to the tutorial, all you need for a mosquito genocide is a 2 liter bottle, cut in half with one half inverted, some brown sugar and some yeast. This contraption is supposed to bring mosquitoes in from miles around to happily dive into the sugar water and die.
There's just one problem – it doesn't work.
Here in central Alberta, mosquitoes are the most common form of winged life under the sun. Going outside in summer is a real risk – because you might pass out from all the blood loss. So of course I tried making the 2 liter pop bottle trap myself.
Over the course of 4 days, I caught exactly two flies and a small curled up leaf. Not a single mosquito.
I'm not alone in my disappointment. Rooting through the comment sections of sites that have published this mosquito trap unearths numerous reports of the same thing. (Example 1, 2, 3, 4) One commenter shares his struggle with this failure of a trap.
I believe that I have read at least 200 comments about this type of soda bottle mosquito trap. I have NOT FOUND A SINGLE ONE THAT SAYS THAT IT WORKS.
I think this trap is a dud, but I'm not giving up the search for a good mosquito trap. In fact I have 2 good DIY traps and some really effective commercial ones to show you.

Trap 1. Trick Mosquitoes into Drowning Themselves
Mosquitos lay their eggs in stagnant water, but if the water has detergent added to it, the water has no surface tension for the mosquitoes to stand on. So instead of laying their eggs, they drown.
Just take a bucket, add a little bit of water, and add a few drops of liquid detergent.
To attract more mosquitoes to the trap, aim a light at the water. Here you see an example of this mosquito trap working well:
Trap 2: Overpower Mosquitoes Tiny Wings with a High Velocity Fan
One of our readers gave a glowing recommendation on a method that works similar to a spiderweb. If that spiderweb were powered by rocket fuel. This pile of mosquitoes was captured by Andy Ross from GreenPowerScience in a single night with one mosquito trap.
The trap works by moving an enormous quantity of air through a fine wire mesh. The mesh is impregnated with isopropyl alcohol (rubbing alcohol) to make sure the mosquitoes are good n dead.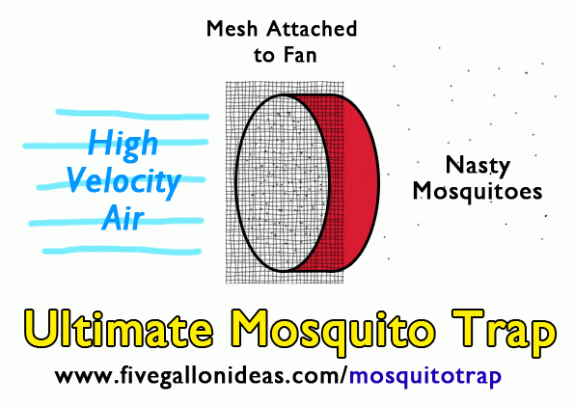 You can try the mosquito catcher out using a normal home box fan, but to really have an effective trap you should go for a high velocity fan. The top recommended fan for these types of traps is the MaxxAir 24″ portable. It will move 4,000 cubic feet per minute. That's compared to your ordinary Lasko box fans which move about 2,000.
The mesh is harder to find, it needs to be fine enough that mosquitos can't fit through it. Ordinary hardware cloth won't work. In a pinch you can just secure ordinary mosquito netting which is cheap and easy to find.
Here is the full video from Green Power Science. I recommend watching at least the first few minutes for some ideas about which fans you can use, how to attach the mesh, and how to properly use the isopropyl alcohol.
3: A Fan Trap that Takes up Less Space: Dynatraps
Some people in the comments are endorsing the mosquito traps from Dynatrap which use a fan just like the previous trap, and also a black light which attracts the mosquitoes from a wide area.
Here is what the 1/2 acre trap can do in 2 weeks. That's tens of thousands of mosquitoes that are not sucking blood from anyone anytime soon.
The traps don't require you to buy mosquito attractant, but they do need an AC outlet for the fan and black light. They end up using a lot less power than the high velocity fan traps.
Dynatraps are rated by their coverage area: (links to Amazon listings)
If you tried any of the traps on this page, or know of any others that have worked, let us know how they worked for you in the comments section. We hope this article helps you win the war against mosquitoes!
Other trap links:
Posted on